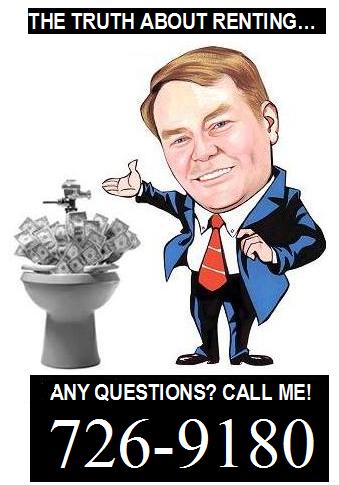 YOU WILL BUY A HOUSE IN YOUR LIFETIME....
THE QUESTION IS, WHO WILL YOU BUY IT FOR...
YOU OR YOUR LANDLORD?
WHEN YOU RENT, YOU ARE PAYING FOR YOUR LANDLORDS HOUSE!
Now before you start ranting at me, it is a fact: Unless you plan to live in a relative's basement rent free for the rest of your life, you will pay rent to someone. The truth is, with the low rates and home prices, most of my clients in the past 6 years have found that, even with tax and insurance included, their house payment now is lower than their rent payment was!
Quick question? If you rent for 30 years, what do you have at the end?....
IT'S SIMPLE...SEE ABOVE!
BUT STOP!...BEFORE YOU TUNE THIS OUT, YOU DO THE MATH!
Let's say you buy an $80,000 home. Even if it does not appreciate a dime, in 30 years you have an $80,000 property. And even if you spend an average of $1000 a year in maintenance, you still come out $50,000 ahead. Plus, you own it, you control it's use and you live the American Dream...and by the way, regardless of what the talking heads on TV say, the American Dream is alive and well!
Now we know not everyone is in a position to buy at this time. But, when you are ready to take control of your future, give us a call and let us help you get started!
CLICK HERE TO SEE ALL OF THE BOONE CREW'S LISTINGS!
FOR COMPLETE INFORMATION... CALL DEBBIE NOW AT 828-726-9180
RETURN TO
HOME PAGE